The following literature review is part of a series for World Vegan Month. Other essays can be accessed by visiting the essays catalog.
---
Chenoweth, E. and M. Stephan.  2011.  Why Civil Resistance Works:  The Strategic Logic of Nonviolent Conflict.  New York, NY:  Columbia University Press.
Combining statistical analysis with case studies of specific countries and territories, Erica Chenoweth and Maria J. Stephan detail the factors enabling such campaigns to succeed and, sometimes, causing them to fail. They find that nonviolent resistance presents fewer obstacles to moral and physical involvement and commitment, and that higher levels of participation contribute to enhanced resilience, greater opportunities for tactical innovation and civic disruption (and therefore less incentive for a regime to maintain its status quo), and shifts in loyalty among opponents' erstwhile supporters, including members of the military establishment.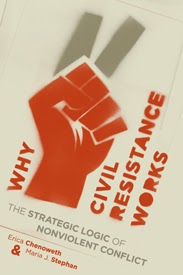 I can't keep count of how many times I've cited this book.  The Nonhuman Animal rights movement has a penchant for violence. For two reasons. First, the movement is male-led, thus valuing male approaches to social change and interactions. Second, speciesism is such a massive social problem, many become frustrated and turn to violence in desperation.  Unfortunately, the history of social movements does not support the success of violent tactics (or, in some cases, the lasting success of violent tactics).
The movement for other animals has been defined by its violence, though violence is only one of many other tactics in its repertoire.  This stereotype has been used to reinforce sanctions against Nonhuman Animal rights activism and gives the public one more reason to dismiss anti-speciesism.  Steve Best of the Animal Liberation Front is of the persuasion that seeing media coverage of violent advocacy will inspire others to join the cause.  I agree with Chenoweth and Stephan that Best's predictions are mostly unfounded.  Violent movements are not so successful at attracting more activists. In fact, violence repels them.
For those who are attracted, we have to consider what types of people are being attracted.  In the case of anti-speciesism, it tends to be young, white males who have internalized masculine notions of dominance, power, control, and entitlement.  In other words, pro-violence anti-speciesism is seeking to build a movement that mirrors the society it wishes to restructure.
Readers can learn more about effective animal advocacy and the dangers of violent tactics in my 2016 publication, A Rational Approach to Animal Rights.
---
This essay was originally published on The Academic Activist Vegan on November 6, 2013.