After much ridicule and resistance, veganism seems to be reaching a tipping point in popularity, cultural assimilation, and institutional accommodation in the West. Indeed, the 2021 Veganuary event pulled a record 600,000 registrants, while hundreds of stores and restaurants eagerly provided new products and specials to facilitate the trend. A year prior, veganism was even recognized as a protected belief in the United Kingdom.
Yet, with any successful political movement comes the predictable countermovement tasked with troubling mobilization efforts and preserving the status quo. For the vegan movement, its opposition takes many forms. This has included newly formed laws designed to protect the secrecy of animal agriculture (Martin 2015, Simon 2013), recharacterize vegan activists as terrorists (Wright 2015), redefine common food terminology and labeling to exclude plant-based options (such as "mayo," "milk," and "burger") (Kleeman 2020), and cast doubt on vegan healthfulness with state-funded marketing campaigns (Nibert 2003). Opposition also materializes in the cultural realm with vegans routinely mocked, marginalized (Cole and Morgan 2011), and feminized (Adams 2000; Gambert and Linné 2018).
It is veganism's feminine association that has become its greatest point of vulnerability in a society that is, according to some feminist sociologists (Dines 2010), increasingly pornified, commodified, and antagonistic toward all things feminine. This begs the question: how can the popularity of veganism be reconciled within a patriarchal marketplace?
I suggest that veganism is regularly described by advertisers in fetishistic terms, likely as a means to resonate with audiences that have been increasingly cued by pornographic and androcentric scripts of consumption. In this way, it is reduced to a hedonistic, capitalist-friendly practice of pleasurable consumption that is very much in line with existing unequal social relations. Drawing on vegan feminist theory, I argue that the veganism—a political position that fundamentally challenges narratives of domination—poses a threat to patriarchal social relations. Subsequently, veganism is depoliticized by patriarchal practices of sexual objectification and capitalistic practices of commodity fetishism. Sexualization, I conclude, transforms veganism from a mode of resistance into a mode of complicity.
This talk, presented at the British Sociological Association's Food Study Group Conference, is available to view here.
---
Works Cited
Adams, C. 2000. The Sexual Politics of Meat. London: Continuum.
Cole, M. and K. Morgan. 2011. "Veganphobia: Derogatory Discourses of Veganism and the Reproduction of Speciesism in UK National Newspapers." The British Journal of Sociology 62 (1): 134-153.
Dines, G. 2010. Pornland: How Porn has Hijacked Our Sexuality. Boston: Beacon.
Gambert, I. and T. Linné. 2018. "From Rice Eaters to Soy Boys: Race, Gender, and Tropes of 'Plant Food Masculinity'." Animal Studies Journal 7 (2): 129-179.
Kleeman, J. 2020. Sex Robots & Vegan Meat. London: Picador.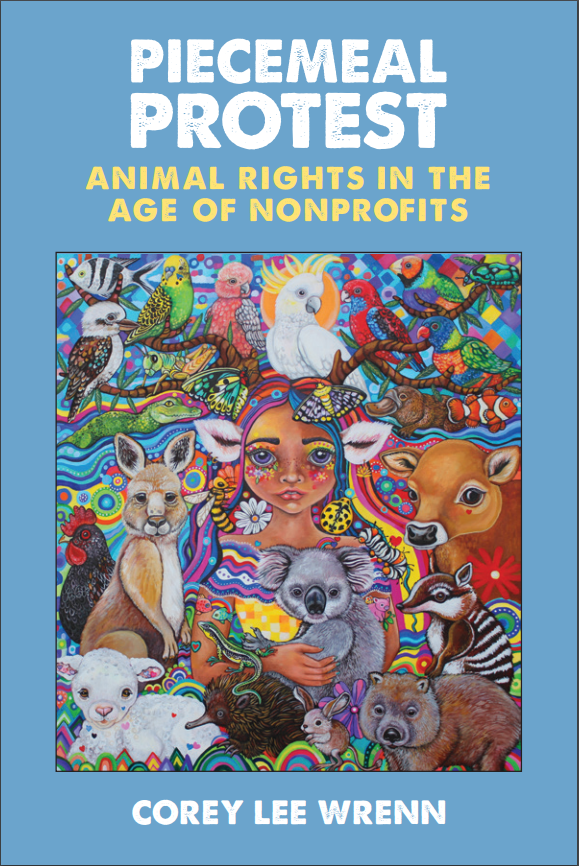 Readers can learn more about the social movement politics of Nonhuman Animal rights and veganism in my 2019 publication, Piecemeal Protest: Animal Rights in the Age of Nonprofits. The beautiful cover art for this text was created by vegan artist Lynda Bell and prints are available on her website, artbylyndabell.com.
Receive research updates straight to your inbox by subscribing to my newsletter.
---